Office Hours and Academic Counseling
Academic Counseling: BY APPOINTMENT ONLY 
To meet with Eboni Shaw, Student Affairs Officer, please make an appointment HERE.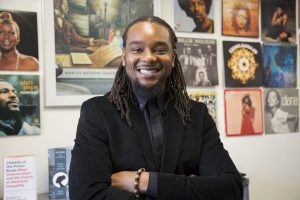 Welcome to UCLA's Department of African American Studies. Born from a dynamic scholar and activist history and synergy, our department is a premiere location for world-class training, teaching, and research on and about Black people across the African Diaspora. Our faculty holds prominent positions within major professional organizations, while also specializing across an array of disciplines, including English, Gender Studies, History, Law, Education, Anthropology, Sociology, Political Science, Information Studies and Musicology. Beyond their historic work on campus, our students have played crucial roles in movements for racial and social justice, established innovative research agendas and interdisciplinary college courses that center the knowledge, lives and experiences of Black people domestically and globally.
The website offers an opportunity to explore faculty and student interests, highlighting the many achievements of our brilliant community members.  It also provides added insight into areas of interests, course offerings, and ways to connect with our community members to get more involved with the department.  Black knowledge is Black power.
Marcus Anthony Hunter, Associate Professor and Chair
Department Mission Statement
The Department of African American Studies at UCLA offers critical interdisciplinary training at both the undergraduate and the graduate levels. Our scholarship, curriculum and programming focuses on the histories, cultures, politics, and intellectual traditions of the African Diaspora with an especial focus on the continued importance of social justice. African American Studies faculty play a significant role in generating innovative paradigms for the social sciences and the humanities. Through rigorous training in multiple methodologies across disciplines, our students are afforded a global appreciation and awareness of Blackness specifically and Black people more generally. The Department of African American Studies at UCLA continues in the legacy of developing global citizen-scholars focused on analyzing and writing about the lived experiences and freedom dreams of people throughout Africa and the African Diaspora.
Background In spring of 2019, UCLA hosted the inaugural ​Connecting Art and Law for Liberation (CALL) Festival​. Sponsored by the Criminal Justice Program, the Prison Education Program, and the Prison […]
Read Mariana Moscoso's thoughts after Connecting Art & Law for Liberation https://medium.com/calartscouncil/a-call-to-action-ef6769812980 "The California Arts Council's Arts in Corrections program sponsored the inaugural Connecting Art and Law for Liberation (CALL) bi-annual conference. The […]
Karida Brown, assistant professor of sociology, and Robert Dallek, professor emeritus of history, have been named to the advisory board of the Obama Presidency Oral History Project. Read the article here: […]