Mark Q. Sawyer, Presente!
(January 10, 1972 – March 26, 2017)
We in the Department of African American Studies are mourning the sudden and tragic loss of our beloved colleague and friend, Mark Q. Sawyer.  He was only 45.  A genuine academic star in the areas of race, politics, and Latin America, Mark was Professor of African American Studies and Political Science.  He has been a member of UCLA's faculty since 1999, having arrived just as he received his doctorate in Political Science from the University of Chicago.
Office Hours and Academic Counseling
1308 Rolfe Hall
(310) 825-9821
Academic Counseling: BY APPOINTMENT ONLY
Black Lives, Black Studies, Black Futures
"Black Studies is revolutionary in its political and historical origins and intellectual impulses. To paraphrase C.L.R. James, who insisted that Black Studies was the study of Western Civilization, Black Studies is a critique of Western Civilization."
–Cedric J. Robinson (1940 – 2016)
The Department of African American Studies in the College of Letters & Science at the University of California, Los Angeles invites applications for a temporary, non-tenure track appointment as Assistant […]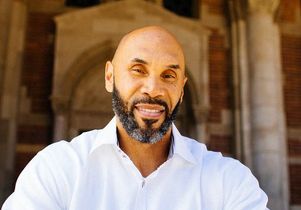 Darnell Hunt, a renowned scholar of race, media and culture, chair of sociology and longtime leader of the Ralph J. Bunche Center for African American Studies at UCLA, has been […]
Read Safiya Umoja Noble's essay "On Losing Black Lives" from the journal No More Potlucks Here